Quand on aime les images, quand on crée des carnets d'inspirations, on fini toujours par avoir envie de décorer, d'habiller un mur avec ses images préférées. Vient alors la question de savoir comment s'y prendre. Choisir l'option mur d'inspirations ou créer de minis expos ou même envisager nos beaux murs blancs comme de véritables pages à recouvrir de dessins, de peintures, de pensées ?
Tout comme j'ai réorganisé mon blog j'ai envie de redécorer mon petit intérieur, de trouver l'art et la manière pour réussir à partager mon univers, en quelque touches, par le jeu de quelques cadres accrochés au bon endroit, associés aux deux ou trois éléments qui leurs feront écho pour raconter une histoire.
C'est évident que l'on aime toutes mettre en place une atmosphère pour se sentir bien chez soi, pour stimuler une créativité, pour présenter son travail, pour dire qui l'on est et ce que l'on aime. Et que l'option redécorer un mur, reste une option le plus souvent économique, simple et rapide à réaliser.
C'est dans cet esprit que j'ai feuilleté quelques pages internet à l'affût de bonnes idées et de belles inspirations.
A la manière de ce papier peint ci-dessus de chez Graham & Brown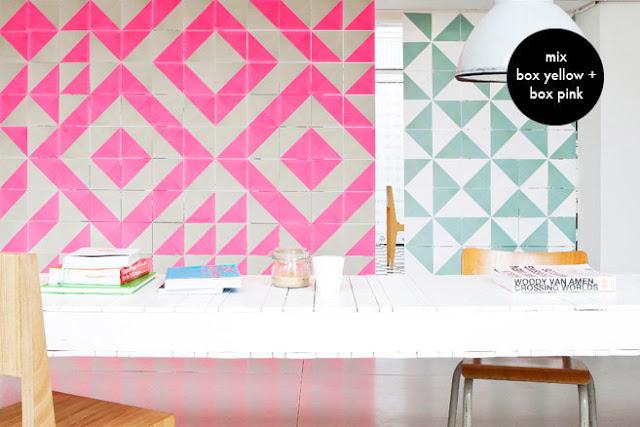 Ou encore comme ce site
Ixxi
(photos ci-dessus), je n'ai pas testé mais sur le principe cela a l'air sympa, c'est un système pour créer une déco/collage murale flexible. Il s'agit de
cartes imprimées avec les motifs, images, photos de votre choix. Des cartes à coller ensuite directement au mur ou à assembler entres elles pour créer des cloisons de séparation
///
I
xxi
(photos above), I have not tested but on the principle this looks nice, it is a system for creating a decor / flexible wall collage. It's cards printed with patterns, images and photos of your choice. Then glue directly to the wall or assemble these cards between them to create a partition///
Plus classique mais toujours efficace >
Ou encore jouer la carte de l'originalité en oubliant les cadres traditionnels et en détournant toutes sortes d'objets, comme ci-dessous d'anciens plats à tartes et à tartelettes
///
Opt for originality in forgetting the traditional frameworks and by diverting all kinds of objects, like these old dishes to pies and tarts///
Dans un esprit graphique et mood-board, et pour continuer à oublier (un peu) les cadres, utiliser du masking tape pour afficher sa sélection d'images et de photos, et le tout en optant pour du noir et blanc
///
In a graphic spirit and mood-board, and for continue to forget ( a few) the frames, use the masking tape to display its selection of images and photos, and by opting for black and white ///
C'est vraiment une courte sélection, il y a tant de style différents... surtout n'hésitez pas à me dire quelles sont vos idées et comment vous aimez décorer vos murs. La manière dont vous faites sortir vos images des pages de vos carnets pour les encadrer ou les exposer.
- - -
It's really a short selection, there are so many different style... do not hesitate to tell me what are your ideas and how you like to decorate your walls. How do you like to frame or expose your own photos or illustrations.